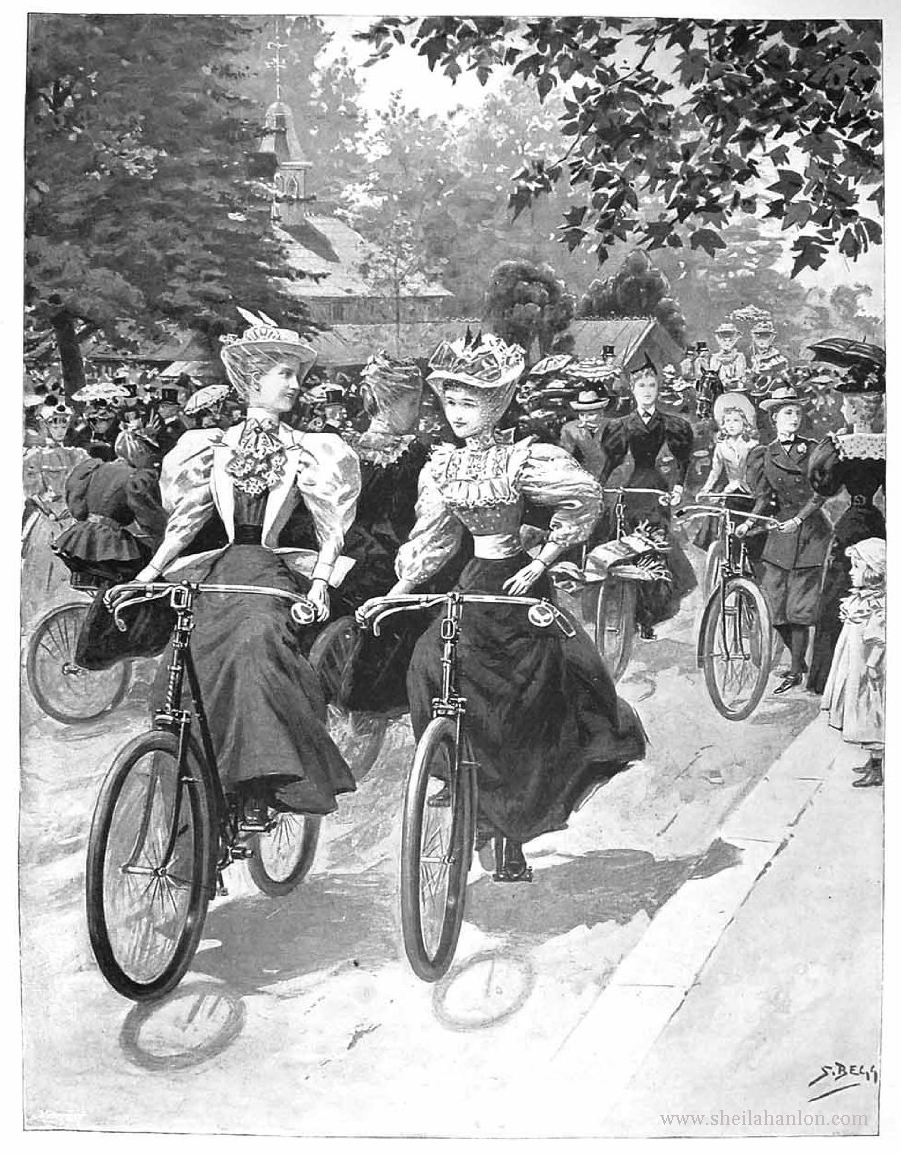 The bicycle literally and figuratively transported women beyond the bounds of the home and into public space in late-Victorian London. Not surprisingly, this incursion into open areas, such as city streets and country lanes, caused mild moral panic among a society clinging to increasingly outmoded ideas about the division of space into masculine and feminine spheres. Parks emerged as an in-between space where women's cycling was accepted as part of a leisure trend popular with the respectable classes, which by Victorian definitions meant middle and upper class riders. Battersea Park in particular became known as the park of the lady cyclist during the craze years. Illustrations such as Samuel Begg's interpretation of the Battersea Park cyclists' row shown above depict a robust cycling culture as early as 1895 populated in the majority by women taking their leisure a wheel.
Battersea's development as a cycle park was in part due to an accident of legislation. When the craze began around 1895, bicycles were banned in open spaces falling under the Parks Regulation Act, which had jurisdiction over royal and municipal parks, including Hyde Park, Regent's Park, and St. James's Park. With these central greens off limits, there was a distinct want of a suitable grounds for cycling within city bounds. Battersea Park, however, was exempt from the Parks Regulation Act so lady cyclists soon gravitated there. The park, located south of the Thames in Surrey, was a relatively new park which had been established as part of a government intervention scheme to regenerate what had once been a notorious and impoverished part of town where raucous fairs were held.
Based on Thomas Cubitt's 1843 recommendations to Queen Victoria's Commission for Improving the Metropolis, an act was passed in 1846 allowing for the formation of a Royal Park in Battersea Fields. Three hundred and twenty acres were annexed, nearly two hundred of which were enclosed as parkland. In the 1890s, local Labour MP John Burns petitioned to have the park locally administrated, rather than put under royal parks jurisdiction. Burns's vision was to maintain the park as an open green space for the use and benefit of the working class people who lived in the vicinity as a healthy alternative to other less desirable recreations such as drink and the music hall. For the duration of the cycle craze, the park was managed by the LCC, which proved amenable to cyclists.