Emmeline, Christabel and Sylvia Pankhurst
Cycling was a family affair for the Pankhursts, who famously founded the Women's Suffrage and Political Union. Dr Richard Pankhurst (1834-1896) was an avid cyclist and prominent member of the Clarion Cycling Club. His wife Emmeline (1858-1928) cycled as well, as did their 3 daughters Christabel (1880-1958), Sylvia (1882-1960), and Adela (1885-1961).*
Christabel was the greatest cycling enthusiast of the lot, with Sylvia riding occasionally as her somewhat reluctant companion. According to Adela's biographer Verna Coleman, however, the youngest Pankhurst sister was not fond of the pastime.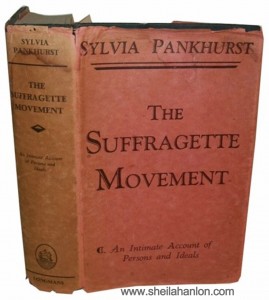 Sylvia recorded her experiences cycling with her sister Christabel in her memoirs, The Suffragette Movement, published in 1931. When Christabel took up cycling, Sylvia was drafted as her chaperon. Sylvia estimated they began to ride in 1906, but it seems more likely that the year was in 1896 during the cycling craze. Christabel invested in a good quality Rudge Whitworth bicycle priced at £30, while Sylvia opted for an impractical but cheap home-made model improvised from gas piping.
Christabel proved to be the superior cyclist, often leaving Sylvia behind as she powered ahead. Sylvia recalled, "It was when riding alone with Christabel that I endured a veritable torture. My crimson face and gasping breath were the wordless answer to her impatient 'Come on!' Afraid of being considered a nuisance, I would strain and strive till it seemed that my heart would burst. Finally she would disappear from me, climbing some hill, and arrive home somehow an hour before me."
The Pankhursts subscribed to the Clarion Cycling Club (CCC), a socialist cycling group associated with Robert Blatchford's radical newspaper The Clarion. Unlike most other cycling organisations of the time, the CCC extended membership to women when it founded its first chapter in 1894. Early invites to club meets often noted that ladies were especially welcome, and generally a handful did attend. The CCC was not, however, wholly egalitarian. Women remained a minority among members, and gender roles and gentle sexism persisted. An 1895 report from the Manchester CCC noted, "Lady members add a great amount of interest to our clubs runs and are a real source of help to us, mere men, when it comes to the inevitable tea-time." Perhaps even more off-putting for the Pankhursts would have been The Clarion's official line on suffrage. Leader Robert Blatchford refused to back women's enfranchisement, in part because he feared it would weaken the case for working class men's rights. This was to incite many angry letters to the editor from women who wanted the vote.
In a 1931 article for The Clarion called "Pedaling Days," Sylvia recalled joining the CCC with Christabel in 1896 and learning to ride with the help of fellow club member Mrs Bennett. The Pankhurst family took part in regular cycling outings with the club as well as supporting their political and charitable work. An 1896 letter to the Clarion Cyclists Journal noted that Dr. Pankhurst and his family had visited a Cinderella camp held by the group to provide holidays for deprived children. Special thanks went to Mrs Pankhurst for a donation of clothing.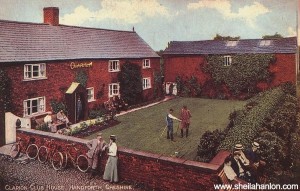 The Pankhursts also attended annual summer camps held for CCC members. These camps were a highlight of the Clarion calendar, and took place in bucolic rural spots. In 1895, The Clarion's "Cycling Notes" correspondent Swiftsure reported that the annual camp at Pickmere, Cheshire consisted of a van, marque, and three bell tents one of which was reserved for ladies and children. The Pankhursts opted to stay nearby, rather than lodge with the rowdy masses. "One summer holiday" Sylvia wrote, "we all had rooms in a farm-house at Pickmere, close to a camp held there by the Clarion Club. Crowds of young men and women, generally rather ostentatious in their love-making, in what was the Clarion way, came down there, and parties of "Cinderella" children were brought in relays for a week's holiday."
Read more about Sylvia and Christabel's cycling adventures in an excerpt from The Suffragette Movement, 1931.
The Clarion Cycling Club was an important part of the Pankhurst's family life. The girls grew up reading The Clarion, and had early memories of meeting key figure in the socialist movement, such as Blatchford, in their family home. When Dr Pankhurst died in 1898, a band of Clarion Cyclists rallied together to accompanied his funeral procession. Blatchford also took up a collection to help provide for the girl's expenses and education, though Mrs Pankhurst declined his offer of support. Much later in life, Sylvia became a regular contributor to The Clarion.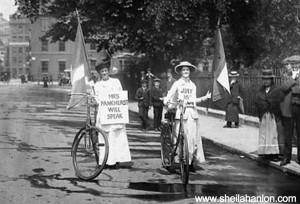 Finally, the CCC's style of political activism on wheels may have served as a model for the Pankhurst's later integration of bicycles into the WSPU campaign. Suffragette cyclists distributed flyers, held parades, canvassed for support in rural areas, and promoted WSPU events. The cyclists shown right are advertising a speech by none other than Mrs. Pankhurst.
Sources
The Clarion, 1895-6, 1931
Coleman, Vera. Adela Pankhurst: The Wayward Suffragette, 1885-1961. University of Melbourne Press: Melbourne, 1996.
Pankhurst, Sylvia. The Suffragette Movement, 1931.
Pye, Denis. Fellowship is Life: The National Clarion Cycling Club, 1895-1995. Clarion Publishing, 1995.
*For more on the Pankhursts, see Martin Pugh, The Pankhursts. London: Penguin Books, 2001. Short bios can also be found on Spartacus.