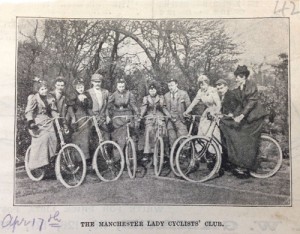 Cycling to Suffrage Manchester
Cycling to Suffrage has gone on the road to Manchester.
Working in association with Team Glow, the Cycling to Suffrage: The Bicycle and Women's Rights, 1890-1914 exhibit opens at the People's History Museum, Manchester March 7th. The exhibit looks at the role of the bicycle in the organised suffrage campaign of the Edwardian era, as well as its earlier significance to the emancipation of women in the late Victorian era.
Cycling to Suffrage, originally shown in London at The Women's Library, is being re-mounted as part of Team Glow "Biking Through" program celebrating women's cycling for International Women's Day. Read more about it in Glynis Francis's guest blog on the PHM website. MCR Women Biking Through.
The show opens Saturday 7th March with a Cycling to Suffrage curator's talk and screening of Half the Road , a documentary film by Kathryn Bertine that looks at women's struggles in the world of professional cycling. There will also be opportunities to discuss of women's cycling past, present and future over a few treats and glasses of wine.
You can add your say my contributing to the bicycle portrait project M'crWomenBike, a project collecting photographs of women across Manchester and asking them why they ride their bikes.
To book a place for the talk and film screening visit Eventbrite.
Cycling to Suffrage talk and exhibition, Sat 7 March 2015, 1.00pm – 2.00pm. Tickets are free but booking is required via Eventbrite.
Half the Road film screening, Sat 7 March 2015, 2.30pm – 4.30pm. Tickets £5, book via Eventbrite
Listen Up Cyclists!
These sound clips accompany the Cycling to Suffrage exhibit at the Manchester People's History Museum.
Please listen to the sound clips below to hear the sounds of cycling past!

Daisy Bell, Written by Harry Dacre 1894, performed by Dali Kaur
This comic song about a bicycle built for two is believed to have been inspired by Frances Evelyn "Daisy" Greville, Countess of Warwick, Greville was a celebrated society cyclist, though she is best remembered as a mistress of Edward VII who also coincidentally cycled. Music hall singer Katie Lawrence popularized the song.
Sylvia Pankhurst on cycling with her sister Christabel. Excerpt from The Suffragette Movement, 1931, read by Sheila Hanlon
The Pankhursts, especially Christabel, were avid cyclists and active members of the socialist Clarion Cycling Club. This excerpt describes the girls' first bicycles and early outings in which Christabel emerges as the superior cyclist. The Pankhursts lived in Manchester at the time, and these memories involve the local landscape.

Helena Swanwick recalls cycling in London and Manchester. Excerpt from I Have Been Young, 1935, read by Glynis Francis of Team Glow.
In this set of clips, we hear Helena Swanwick's reminiscences about riding in London and Manchester. Swanwick was a pacifist who initially joined the WSPU but quickly re-aligned herself with the NUWSS. She and her husband Fred enjoyed cycling around Cheshire and Derby, and took their bicycles on holiday to France.
The Manchester Story: Help us write it
Manchester has a rich cycling history that has only begun to be uncovered. As Cycling to Suffrage documents, prominent local suffragettes, including the Pankhursts who founded the WSPU, jumped on their bicycles for political purposes. Manchester was also home to one of the first branches of the Clarion Cycling Club founded in 1894 and industrial innovators such as Andrew Muir who produced some of the UK's earliest velocipedes. Did you know that Manchester had one of the first women's bicycle groups, The Manchester Lady Cyclists' Club, shown above in a newspaper photo from 1895.
Cycling to Suffrage, in association with Team Glow, is interested in developing the Manchester Cycling Story as part of local heritage and cycling history. This project celebrates the struggles of our cycling sisters of the past as we fight for equality on the road today and secure a better future for tomorrow's cyclists.
Could you help write the Manchester cycling story? If so, please get in touch. You can contact the Cycling to Suffrage Project by emailing cyclingtosuffrage@gmail.com or through the comment box below. To contact Team Glow, email Glynis Francis or Ursula Harries, info@teamglow.net
Help us write the Manchester Cycling Story!