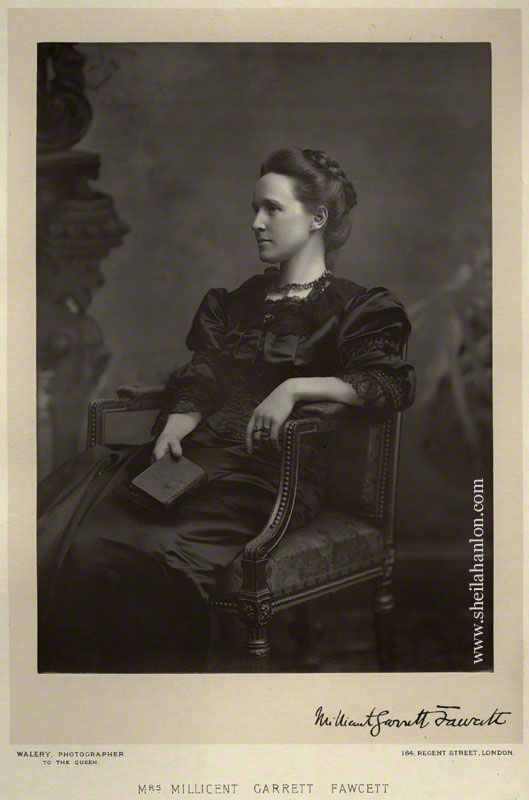 The accomplishments of peaceful suffragists are often overshadowed by the legacy of the militant suffragettes, but those in Mrs Fawcett's law abiding camp played an equally important role in the struggle for the vote.
Details of suffragist's personal lives and leisure, like those of their suffragette sisters, are often difficult to find. Everyday activities are omitted from the biographies women of this ilk in favour of narratives building toward the vote through actions directly related to emancipation, such as speeches, protests, and imprisonment. A prosopography of the ordinary life of a suffrage era women, however, would most certainly include cycling. Millicent Garrett Fawcett, leader of the National Union of Women's Suffrage Societies (NUWSS), is no exception.
Millicant Garrett was born in Aldeburgh, Suffolk in 1847 to progressive parents. Her father, a former London pawnbroker, owned a corn and coal warehouse in Aldeburgh. The family supported higher education for women, and the successful warehouse business meant they could afford a good education for their children.
Millicent's older sister Elizabeth enrolled in medical school in London and her other sister Louise moved to the city as well. Millicent was exposed to radical politics on her frequent visits to see her sisters in London. On one of these occasions in 1865, she heard a speech on women's rights by John Stuart Mill. That encounter was to set the theme of her life's work.
She joined the Women's Suffrage Committee, established in 1867, and spoke at its first London meeting in 1868. Millicent's political and sisterly connections led to an introduction to the politician Henry Fawcett, who she married in 1867. Their daughter Philippa, also a committed suffrage campaigner and an avid cyclist, was born a year later.
Millicent's early married life was divided between supporting her husband's political career and campaigning for women's causes, such as opposing the Matrimonial Causes Act, organising women's lectures at Cambridge that led to the founding of Newnham College, and exposing the exploitation of vulnerable women. When Henry died in 1884, she turned her attention fully towards women's causes.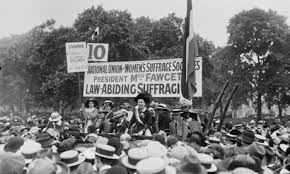 In 1897, Millicent helped found the NUWSS, an organisation she was named president of in 1907. Though she was associated with a number of suffrage organisations, leading the NUWSS was her most high profile role. The photograph left shows her on the hustings at a 1913 Hyde Park NUWSS meeting. Fawcett remained committed to securing the vote for women through constitutional means, even when the WSPU deemed peaceful action ineffective and turned to militancy.
In stolen moments between political campaign work, Fawcett found time for cycling. Fawcett was one of thousands of women who learned to ride during the 1890s cycling craze. In 1896, she wrote in a letter home to her mother reporting that she was learning to ride, but after three lessons was "still stupid at it." She persisted, and eventually become a proficient cyclist.
A few years later, as the fad for cycling among middle and upper class women waned, Fawcett encouraged readers of Wheelwoman magazine to donate their unwanted bicycles to working girls clubs as a way of helping improve the lives of those "who labour in hot stuffy rooms day after day and would welcome the chance of borrowing a cycle."
In 1901, Fawcett was appointed by the British Government as leader of a women's delegation sent to South Africa to investigate the conditions faced by women and children in Second Boer War concentration camps. The investigation corroborated Emily Hobhouse's earlier indictment of the atrocious conditions in these camps. For Fawcett, in addition to being a humanitarian cause, it doubled as a suffrage mission since she envisioned herself as a guardian of Uitlander civil rights.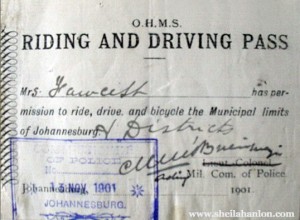 During the trip, Fawcett was issued with several permits allowing her to ride, drive, and bicycle in the regions she visited, such as the one shown here from Johannesburg. South Africa had a robust women's cycling culture by the time Fawcett arrived. British magazine Lady Cyclist even had a regular columnist based in Johannesburg. Fawcett would not have been out place cycling in urban parts of South Africa, but the more remote regions where she visited concentration camps likely had not yet acclimatized to the sight of a women on a bicycle. You can read more about Fawcett's bicycle license here.
After the turn of the century, bicycles played a part in the women's suffrage campaign. The campaign tactics adopted by Fawcett's NUWSS included bicycle parades and tours, while the WSPU used bicycles as get away vehicles in daring arson attacks and other militant actions. Regular readers of this website will be familiar with the postcard below showing NUWSS pilgrims stopped midway along the 1913 pilgrimage route from Land End to London.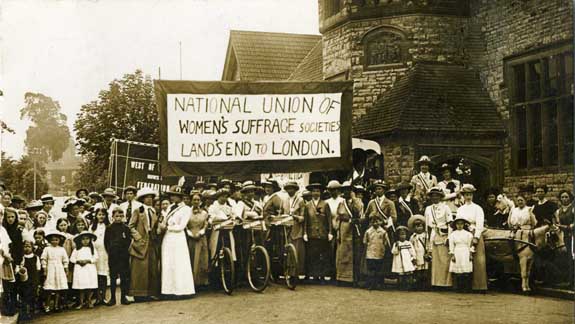 There's an interesting postscript to Fawcett's cycling story. When war broke out in 1914, Fawcett redirected her energy away from women's suffrage and towards the war effort. As leader of the Active Service League, she ensured her new group's agenda included Saturday afternoon bicycle parties and rides to local villages and hamlets. These rides were a holdover from the cycling campaign tactics Fawcett's NUWSS utilised, as well as an important social side of the political life she endorsed for modern women.
Sources and further reading
Millicent Garrett Fawcett's Bicycle Licence, The Women's Library, LSE
Portrait of Millicent Garrett Fawcett, National Portrait Gallery, 1889
Jane Howath, "Millicent Garrett Fawcett," Oxford Dictionary of National Biography, (2010-14)

David Rubinstein, A different world for women: the life of Millicent Garrett Fawcett, (1991)
Elizabeth Crawford, The Women's Suffrage Movement: A Reference Guide 1866-1928, (2003)
Wheelwoman magazine, 1897