Cycling history turns up in the strangest places. Millicent Garrett Fawcett's permit to drive a bicycle in turn of the century Johannesburg, shown above, is one such curiosity from the archives.
This small paper license was one of the first 'hits' that I came across early in my research on women's cycling history at The Women's Library. It may be a minor part of the collection, a piece of ephemera tucked into a box of folders related to Fawcett's role as a government official investigating conditions in Second Boer War concentration camps, but it's a fascinating find that reveals a sliver of cycling history nonetheless.
Leafing through Fawcett's handwritten notes, correspondence, photographs and early drafts of what was to be a hugely influential exposé on the human impact of war may seem like a strange way to go about researching cycling history. But, buried among the files, along with the last remaining nub of the pencil Fawcett used to jot down her field notes, sat her cycling and driving pass.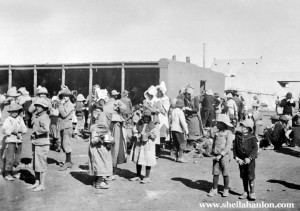 Fawcett, a well-known suffragist and president of the NUWSS, was appointed by the British government to lead a commission into the conditions faced by the families of Second Boer War soldiers in the concentration camps created to house them. The investigation corroborated Emily Hobhouse's earlier indictment of the atrocious conditions women and children endured in these camps. For Fawcett, in addition to being a humanitarian cause, it served as a suffrage mission since she saw herself as a guardian of Uitlander civil rights.
During the trip, Fawcett was issued several regional driving permits, including the one shown above which granted permission to "ride, drive, and bicycle" in the municipality of Johannesburg. The permit dates to a time when bicycles were newcomers to the road and their legal status as vehicles was uncertain. Cyclists were often at the centre of conflict over road use and there was debate over how to apply traffic laws, licensing, road tax, and border crossing tariffs. Some municipalities introduced bicycle licenses as a means of regulating riders, while others did so as a form of taxation, which may explain the origins of Fawcett's riding, driving and cycling pass.
The permit is also of interest for what it tells reveals about patterns of road use at the turn of the century. It reflects multi-vehicular traffic, with horse drawn carts, motor vehicles, and bicycles all sharing the road. Fawcett's permit covered all these forms of transportation. Motorised vehicles were on the rise, but it would be decades before horse drawn vehicles were completely outmoded in South Africa or back home in Fawcett's England.
Considering this driving permit was issued during an era when the women's suffrage campaign was on the rise, it serves as a reminder that that women weren't entirely exempt from legal rights and obligations, nor we're they cut off from all avenues of political work. This is particularly poignant in the case of middle and upper class women like Fawcett and her circle who were most likely to take advantage of rights and opportunities, whether it meant running for election to their local school board or riding a bicycle.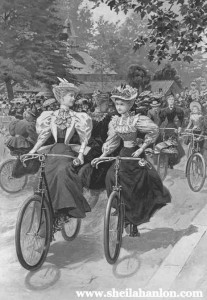 Though it is not clear if Fawcett used her bicycle in South Africa, we know that back home in England she was an avid cyclist. She was one of thousands of women who learned to ride during the 1890s cycling craze, such as the lady cyclists enjoying a run in Battersea Park shown left. In 1896, she wrote in a letter home to her mother reporting that she was learning to ride, but after three lessons was "still stupid at it." She persisted, and eventually become a proficient cyclist.
A few years later, as the fad for cycling among middle and upper class women waned, Fawcett encouraged readers of Wheelwoman magazine to donate their unwanted bicycles to working girls clubs as a way of helping improve the lives of those "who labour in hot stuffy rooms day after day and would welcome the chance of borrowing a cycle."
South Africa had a robust women's cycling culture by the time Fawcett arrived. British magazine Lady Cyclist even had a regular columnist based in Johannesburg. Fawcett would not have been out place cycling in urban parts of South Africa, but the more remote regions where she visited concentration camps likely had not yet acclimatized to the sight of a women on a bicycle.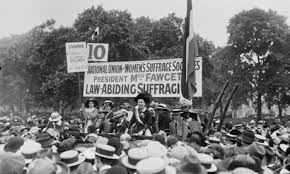 After the turn of the century, bicycles played a part in the women's suffrage campaign. The campaign tactics adopted by Fawcett's NUWSS included bicycle parades and tours, while the WSPU used bicycles as get away vehicles in daring arson attacks and other militant actions.
When war broke out in 1914, Fawcett redirected her energy away from women's suffrage and towards the war effort. As leader of the Active Service League, she ensured her new group's agenda included Saturday afternoon bicycle parties and rides to local villages and hamlets.
Though we may never know the extent to which Fawcett took advantage of her "permission to ride, drive, and bicycle the municipal limits of Johannesburg," her permit remains an interesting part of transportation history and an intriguing cycling artefact.
Have you stumbled across an item of interest to cycling history in a surprising place? Send in your story and it will be added to this post.
Sources and further reading
Main Image: Millicent Garrett Fawcett's Bicycle Licence, The Women's Library, LSE
Jane Howath, "Millicent Garrett Fawcett," Oxford Dictionary of National Biography, (2010-14)

David Rubinstein, A different world for women: The life of Millicent Garrett Fawcett (1991)
"Wheelwomen A-H, Millicent Garrett Fawcett", www.sheilahanlon.com (2014)
Wheelwoman magazine, 1897