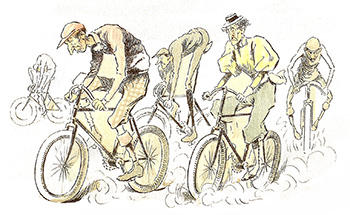 "Don't cultivate a bicycle face." — Don'ts for women on bicycles, New York World, 1895
Medical professionals kept a watchful eye on cycling when it rose in prominence as a fashionable form of leisure for men and women in the 1890s. The health benefits and risks of cycling were a source of great debate, with doctors emerging on both sides of the issue. Pro- and anti-cycling camps presented a list of real and imagined cycling diseases and cures that reveals as much about social and gender attitudes as it does about the science and pathology behind these theories, especially in regards to the impact of women's cycling.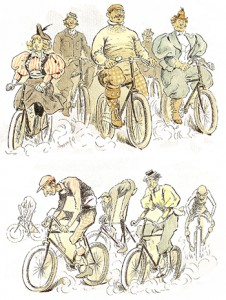 Bicycling ushered in a new era of physical leisure for women. Following on earlier leisure fads for light sport including lawn tennis and croquet, this late Victorian recreation continued trends in women's outdoor recreation, but intensified the physicality and independence associated with it. Not surprisingly, women's participation in cycling was a contentious issue. A number of doctors made women's cycling health one of their specialisms and published widely on the subject, including Drs Arabella Kenealy, AT Schofield, Benjamin Ward Richardson, A Shadwell, EB Turner, Henry Garrigues and WH Fenton just to name a few. The 1890s were a time when women's cycling was both censured and encouraged, with the body serving as the battlefield for a raging debate informed by gender conventions, social politics and anxiety about the changing role of women in a modernising world.
The Benefits of Cycling for Women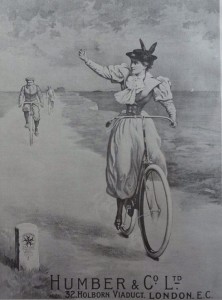 It wasn't all bad news for lady cyclists during the cycling craze. Many doctors reassured their patients that the pastime could be taken up without concern if practiced in moderation. Prospective lady cyclists were encouraged to consult their physician to verify that they were fit and free of any underlying conditions that might be aggravated by cycling. As Patricia Vertinsky suggests in her book The Eternally Wounded Woman, this was more likely out of bias against women making their own decisions and deference to the opinions of male medical practitioners than out of real concern. Continue reading →