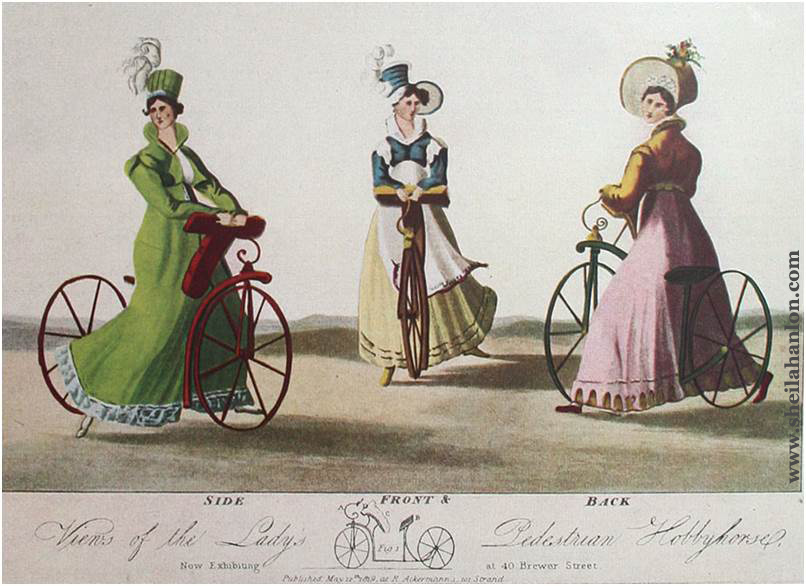 Fashion is one of the most popular topics in women's cycling history, especially the bloomers and rationals of the 1890s and the idea of emancipation associated with them. But, women's cycling fashion has a much longer and more diverse history than this implies. The Bicycle Fashion Files look at women's cycling fashion across three eras, Early inventions 1790-1860s, Highwheeling and Tricycling 1870-1880s, and The Cycling Craze 1890s.
Part One: The Early Inventions, 1790s-1860s
Celeriferes and Draisienes: The Birth of Cycling Style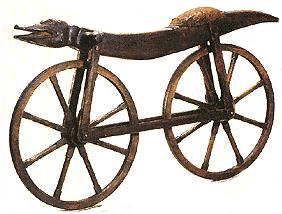 Cycling fashion trends evolved alongside developments in bicycle technology. Even as far back as the introduction of the celerifere in 1790s France, a running machine consisting of a wooden horse on wheels, what to wear while riding was a concern. These machines were popular with wealthy young gentlemen for park riding. For celerifere enthusiasts, the costume of choice was was a masculine military inspired jacket paired with matching breeches and cap.
In 1817, German inventor Karl von Drais introduced an improved version of the running machine, which was popularly known as the draisiene or laufmaschine. This new machine was primarily marketed to men, but as you can see from the 1818 image of a demonstration in Luxembourg Gardens shown below, women were interested in this novelty and appeared in the crowd of spectators.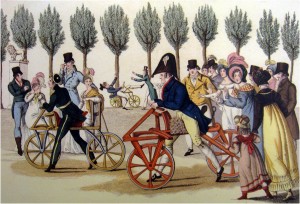 Von Drais took the unusual step of including a tandem with a seat for a female rider and a three wheeler for a solo female rider in his 1817-18 catalogue. Though no images of women riding these machines has survived, and there is no guarantee that they were produced, had women tried them they likely would have worn long gowns like those in attendance at the demo sport. Continue reading →