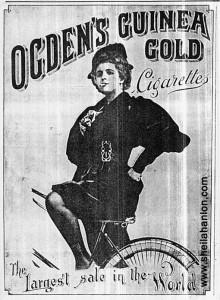 Want to know what an 1885 photo of a wax mannequin on a tricycle tells us about the dress reform movement? Or hear how local residents in 1890s Malden reacted to the sight of a lady cyclist's bloomers? Listen to me discuss these artefacts and other exciting finds from The Women's Library in an interview about the upcoming "Cycling to Suffrage" exhibit on The Bike Show, Resonance Radio, Monday 12 March, 6:30-7:00.
Also on this episode of The Bike Show, a discussion of current issues in women's cycling advocacy and safety.
If you missed the show live on air, you can listen to it here!
For more on The Bike Show, see their website, http://thebikeshow.net
Further information about the "Cycling to Suffrage" exhibit can be found on The Women's Library events page.
Image: Ogden's Guinea Gold cigarette ad showing New Womanly lady cyclist smoking, c. late 1900. From author's research collection.