Interested in learning to ride or getting involved with a local cycling group? Check out the resource list that accompanies the "Cycling to Suffrage" exhibit at The Women's Library.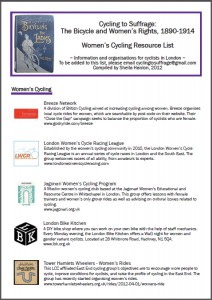 Women's Cycling Resource List, 2012
Follow the links in the pdf to go to the websites of the organisations listed.
The list is by no means complete, rather it is a selection of some of London's great cycling organisations. There are many other cycling groups and initiative out there that I would encourage you to investigate. Please note the resource list is intended as a general guide, and is not an endorsement (not is it endorsed by) any of the organisations named. Be sure to do your research to find the right group for you.
Want to be added to the list? Send me a few details about your organisation and it may appear in the appendix to follow on this website.
Source: "Bicycling for Ladies" cover photo taken by Sheila Hanlon of original held at The Women's Library.