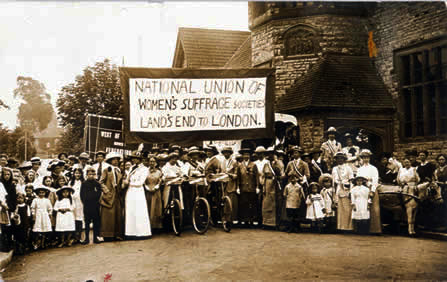 At the height of the Edwardian suffrage movement, a number of organisations held mass marches and pilgrimages to publicise the "Votes for Women" campaign.  The postcard above shows a group of participants on the 1913 NUWSS Pilgrimage. These pilgrims were headed from Land End to London, and their cycling contingency is posed out front.
The Land's End to London pilgrims set out on June 18th and arrived in London in time for the July 26th NUWSS mass meeting in Hyde Park. Along the way, they promoted the suffrage message, held meetings, met supporters, and raised nearly £9000. Millicent Garrett Fawcett reported that the public welcomed the NUWSS pilgrims, and attributed this friendly reception to the fact they were respected as non-militants.
Most participants travelled by foot, but some brought their bicycles along. Cyclist served as outriders for the main body of marchers, often going ahead to announce their approach, secure accommodation, or prepare for meetings. One pilgrim, Mrs Mason of the Bolton NUWSS, covered the entire route from her home town to London by bicycle. Cyclists also took a prominent position in many of the group portraits and candid photographs taken of the pilgrims, including the image profiled here.
Sources:
Image: "Group portrait," Postcard, 1913, The Women's Library, TWL.2002.369
Millicent Garrett Fawcett, The Women's Victory—and After: Personal Reminiscences, 1911-1918 (London: Sidgwick & Jackson Ltd. 1920)
Elizabeth Crawford, Women's Suffrage Movement a Reference Guide, 1866-1928 (London: UCL Press, 1999)