The video above parodies Boris Johnson's very fitting wedding present to newlyweds Kate Middleton and Prince William: a tandem bicycle. Their marital bicycle, a Barcley hire bike built for two, has a legacy rooted in application of gender norms to early bicycle culture.
The tandem has a long history as a means of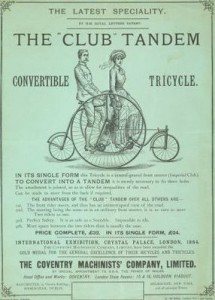 companionate cycling. Early versions included a ladies velocipede hitched behind a man's velocipede, contraptions that connected two Ordinaries together, tricycles with basket-like seats to carry a female passenger in, and the convertible tricycle with a detachable ladies' seat on wheels shown to the right. In the 180o's, tandems, or sociables as they were known when the riders were positioned beside each other, developed a following among wealthy couples. The photograph from the Science Museum Collection below shows a tandem quad with a built in front ladies' seat. Note that the male rider has a saddle and handlebars, whereas the female rider has a bench seat and hand rests to the side.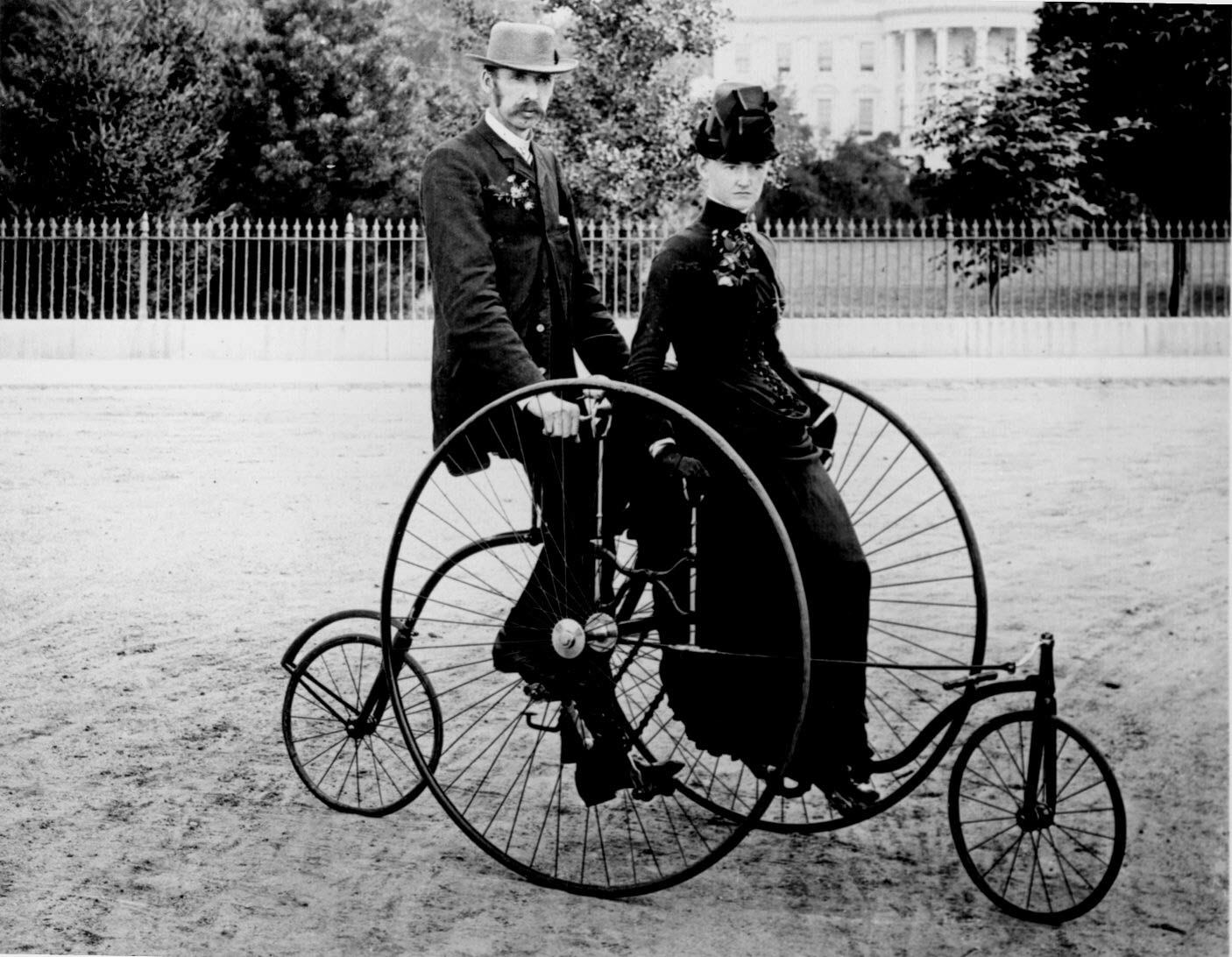 In the 1890s, tandem Safety bicycles hit the market. The possibility of men and women sharing a bicycle had interesting implications for courtship and gender conventions. One question raised was whether ladies belonged in the front or rear seat. Tandems of both types were produced, but it was generally believed that a the gentleman's place was in the front where he could steer, brake, and in case of danger leap from the machine and steady it to protest his companion from upset, both physical and emotional of course. Others felt gentlemen belonged in the hind seat, since it was rude to turn one's back on a lady. Others CTC Gazette columnist FT Bidlake chimed in on the issue, ruling in 1898 that "Ladies, like luggage, are wisely consigned to the rear." The image below shows a Welsh couple on their lady front tandem. The man pictured was a blind piano tuner.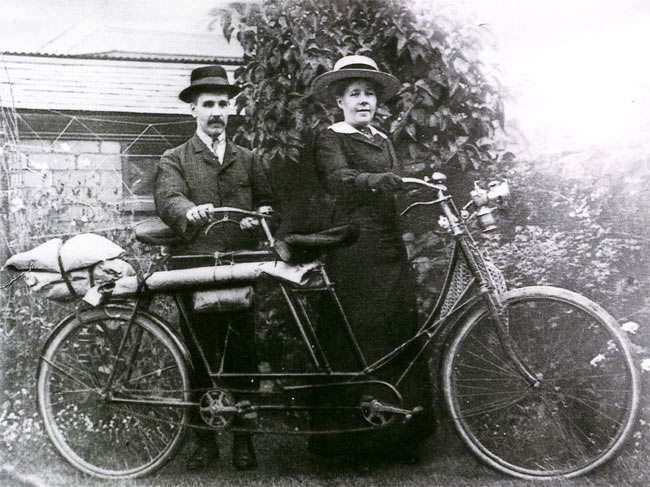 The best known marital tandem was the one immortalised by composer Henry Dacre in his comic song "Daisy Bell," also known as "Daisy Daisy" or " A bicycle made for two." Written in 1892, the tune is popularly believed to have been inspired by Frances Evelyn "Daisy" Greville, The Countess of Warwick. Greville was a socialite, philanthropist and infamous mistress of Albert Edward, Prince of Wales the future King Edward VII. Both she and the Prince of Wales were avid cyclists, which is why the tandem came to be associated with Daisy.
Here are the lyrics to Daisy Bell so you can sing along with the royal tandem video:
Daisy Bell or A Bicycle Made for Two
(Written and Composed by Harry Dacre)
There is a flower within my heart
Daisy, Daisy
Planted one day by a glancing dart
Planted by Daisy Bell
Whether she loves me or loves me not
Sometimes it's hard to tell
yet I am longing to share the lot
Of beautiful Daisy Bell(chorus)
Daisy, Daisy give me your answer do
I'm half crazy, all for the love of you
It won't be a stylish marriage
I can't afford a carriage
But you'll look sweet on the seat
Of a bicycle built for two We will go "tandem" as man and wife
Daisy, Daisy
"Ped'ling" away down the road of life
I and my Daisy bell
When the road's dark we can both despise
P'licemen and lamps as well
There are "bright lights" in the dazzling eyes
Of beautiful Daisy BellI will stick by you in "wheel" or woe
Daisy, Daisy
You'll be the bell(e) which I'll ring, you know
Sweet little Daisy Bell
You'll take the "lead" in each "trip" we take
Then if I don't do well
I will permit you to use the break
My beautiful Daisy Bell
Sources:
Video: YouTube, http://youtu.be/IFJYAVhWgfw
Images: Science Museum Picture Library; Rhangor Museum, "Iron Frames and Wooden Wheels – The Bicycle Collection at Amgueddfa, Cymru" http://www.museumwales.ac.uk/en/1972
CTC Gazette, June 1898
Daisy Daisy lyrics composed by Henry Dacre, 1892