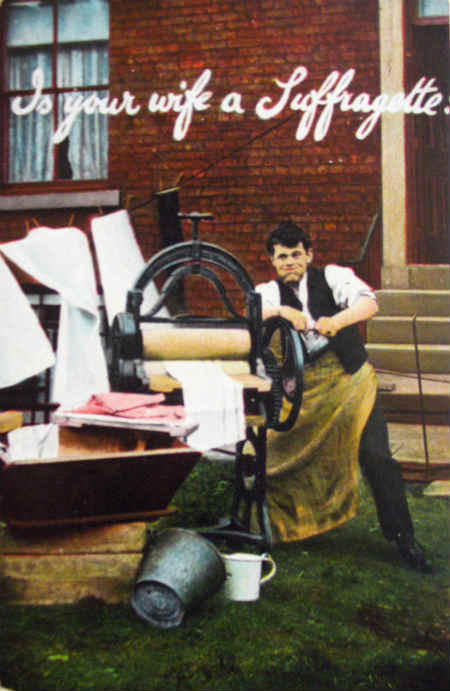 The emasculated husband was a popular subject for picture postcards protesting the consequences of new womanly and suffragette ways.
The postcard shown above dates to the Edwardian suffrage campaign. The maker's inscription on its reverse reads Eustace Watkins. The back of the postcard was left blank and it was never posted, suggesting it may have been purchased and kept as a novelty or collector's item.
The illustration shows an emasculated husband struggling with a mountain of laundry in his yard. Laundry was a token task often chosen to symbolize women's work in scenes depicting a disruption of the domestic sphere. The cause of the gender role inversion evident in this scenario is implied to be the suffrage movement. His wife, it seems, has abandoned the home in pursuit of a women's rights and has usurped his role outside of the house.
This anti-suffrage postcard picks up on a theme common in earlier comic images critical of the 1890s era lady cyclist. The stereoscope card below shows a woman in rational dress on her way out for a bicycle ride. Her apron clad husband dutifully attends to her boots while a gaggle of children look on. As she makes her exit, she instructs her husband to "Mind the children, finish the washing, and have dinner at 12." Her tone and costume make it clear who wears the breaches in their family.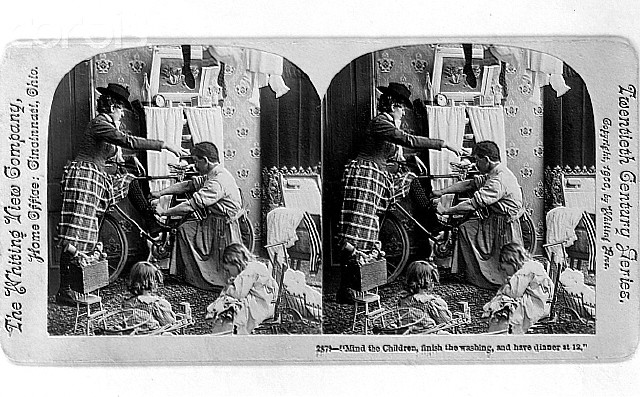 Both images pick up on insecurities about the changing role of women in society and the potential fallout men might face as a result of the re-evaluation of gender roles around the turn of the century.
Sources:
"Is your wife a suffragette?" Postcard, The Women's Library,  TWL.2004.1011.18, Postcard Box 2, 1907-1918. Photographed by Sheila Hanlon.
Lady Cyclist with Husband, Postcard, Whiting View Company, n.s., c. 1900.