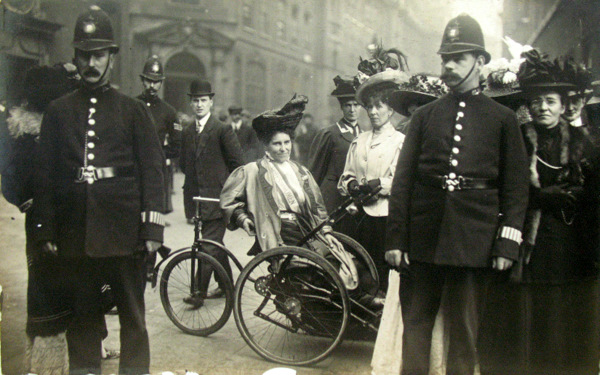 Rosa May Billinghurst (1873-1953) was born and raised in Lewisham. As a child, she was stricken with complete paralysis from which she never fully recovered. Her condition did not, however, deter her from joining the WSPU in 1907 or becoming one of its best known militants.
Billinghurst's invalid tricycle gave her the mobility she needed to become an active member of the suffrage movement. Her invalid tricycle was a makeshift wheelchair consisting of a modified tricycle with hand controls. Billinghurst attracted public attention by appearing in processions dressed in white and wheeling along with her machine decked out in coloured WSPU ribbons and "Votes for Women" banners.
In addition to being a regular fixture at peaceful protests, Billinghurst was drawn to militant action and attacks. These earned her several prison terms, including an eight month sentence for pillar box atrocities in December 1912 from which she was released early after brutal force feeding sessions left her in ill health and with broken teeth.
The image above shows Billinghurst under arrest, possibly in November 1911 when she was charged with obstructing police in Parliament Square. These charges were likely justified. Recalling her impressions of Billinghurst, one veteran of the suffrage movement wrote, "I remember hearing startling stories of her running battles with the police. Her crutches were lodged on each side of her self propelling invalid chair, and when a meeting was broken up or an arrest being made, she would charge the aggressors at a rate of knots that carried all before her."
Sources:
Image: "The Papers of Rosa May Billinghurst," The Women's Library, Ref 7RMB
"Billinghurst Letters" and "Alice Ker Letters," The Women's Library, Autograph Collection, Vol XXIX, 9/29, 1912-1913
Fran Abrams, Freedom's Cause: Lives of the Suffragettes, (London: Profile Books, 2003)
Iris Dove, Yours in the Cause: Suffragettes in Lewisham, Greenwhich and Woolwhich, 1988.